25 years of service recognized
On March 26, one of the Regional Districts most dedicated volunteer firefighters, Fire Chief Ernest K. Ferguson was recognized by the BC Fire Commissioners Office. On behalf of the Regional District and the residents of Boston Bar/North Bend, Terry Raymond thanked Chief Ferguson for his 25 years of service and presented him with the BC Long Service Medal . An excerpt of Mr. Raymond's speech follows.
"In an age when recruiting volunteers has become more and more difficult, it is gratifying to know there are some members of the community that are still willing to dedicate a large portion of their time and energy to serve their community. Fire Chief Ernie Ferguson joined the Boston Bar/North Bend Volunteer Fire Department in 1977. He was appointed fire chief on June 6, 1984. As fire chief and firefighter not only has he responded to pages in the middle of the night, he has also been responsible for the recruitment and training of the firefighters under his command. In addition he is responsible for the day to day operation of the fire department and the fire hall which includes
preparing an annual budget, purchasing required
equipment, painting and repairing the fire hall
and maintaining the grounds when needed.
Of course added to this is a mound of paper work
that would make the most seasoned bureaucrat
cry. Through all this Chief Ferguson has maintained
his sense of humour and earned the respect of his
fire fighters, regional district staff and the members
of the community. The Regional District is very
fortunate and grateful to have such a dedicated
individual protecting the lives and property of it's
residents."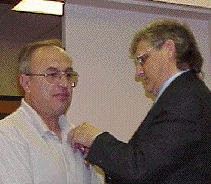 Fire Chief Ernie Ferguson receives
BC Long Service (25 year) Medal
from Chairman Terry Raymond
Comfortable
Two Boston Bar sisters inherit the family ranch. Unfortunately the farm is in financial trouble. In order to keep the bank from repossessing the ranch; they need to purchase a bull so they can breed their own stock.
The elder sister decides to take their last $600 out to Alberta to another ranch where a man has a prize bull for sale. Upon leaving, she tells her sister, "If I decide to buy the bull, I'll contact you to drive out after me and haul it home."
The woman arrives at the man's ranch, inspects the bull, and decides to buy it. The man tells her that he can sell it for $599, no less. After paying him, she drives to the nearest town to send her sister a telegram.
She walks into the telegraph office, and says, "I want to send a telegram to my sister telling her that I've bought a bull for our ranch. I need her to hitch the trailer to our pick-up truck and drive out here so we can haul it home."
The telegraph operator says, " ok, It's just 99 cents a word."
Well, with only $1 left after paying for the bull, the woman realizes that she'll only be able to send her sister one word. After thinking for a few minutes, she nods, and says, "I want you to send her the word,
comfortable
."
The telegraph operator shakes his head. "How is she ever going to know that you want her to hitch the trailer to your pick-up truck and drive out here to haul that bull back to your ranch if you just write,
comfortable
?"
The woman explains, "My sister's not too bright. She'll read it slowly."
National youth initiative celebrates 25th Anniversary
Since 1977, more than 20,000 Canadians have lived the Katimavik experience, providing nearly 2,000 communities with millions of hours of volunteer work. Katimavik is now Canada's leading national youth service learning program for 17-21-year-olds looking for adventure.
Katimavik is trying to locate all of those alumni, along with the many community partners, staff people, billet families, and others that helped Katimavik make its mark on communities all over the country.
Anyone wanting to re-connect with Katimavik in its 25th Anniversary year is encouraged to visit the website at www.katimavik.org to register and attend one of the anniversary events being held across Canada. Celebrations for the British Columbia and Yukon region will be July 12-14, 2002, in Vancouver. If you were a part of Katimavik in this region, they hope to see you there.
Katimavik offers participants an exciting seven-month cultural exchange and skills development program. At a time when post-secondary school space is at a premium and first-time jobs are difficult to obtain, Katimavik gives youth an alternative educational experience that focuses their energies and gives them tangible skills for the future.
Groups of 11 participants from every region of Canada come together to live, learn and give back to their host communities through volunteer work projects. The Katimavik teams live for 10 weeks in each of three Canadian communities, including one French-speaking area. While there, they develop their skills in work, life and leadership, along with their knowledge of Canada's other official language. Katimavik challenges, motivates and guides youth to travel with them on a journey of self-discovery, while developing leadership skills for the future and living the adventure of a lifetime. Link to www.katimavik.org or call 1-888-525-1503 for more information about our program and our call for alumni to celebrate 25 years since the inception of Katimavik.
"The Government of Canada through Exchanges Canada, part of the Department of Canadian Heritage, is proud to provide financial assistance to Katimavik."
For more information or to arrange for an interview with a local participant, contact:
Pamela Lang, Coordinator of Recruitment and Partnerships,
Katimavik - BC/Yukon Region
Phone: 604-521-0555, ext. 25
Email: plang@katimavik-bcyk.org
**Editor's note- In 1984-85, I was lucky enough to be chosen from thousands of applicants for Katimavik, if anyone has questions, or if you are a past participant who would like to reminisce, give me a call!
One Evening On The Fraser River...
There was the Canadian Premier and a North Bender, fishing on either sides of the Fraser River. Just as soon as the North Bender put his line in the water, he slung a fish onto the bank. The Premier was catching nothing, so he yelled across , ''Buddy, I'd sure like to be on your side of the river!''
"Ahright, tell ya what," said the North Bender with a wicked gleam in his eye, "I'll shine my flashlight across this river, and you can walk across this little beam of light!''
The Premier replied, '' No way, buddy. I know you think I'm a fool! But I gotcha figured out. When I get halfway across, you're gonna turn your flashlight off!''
The "All People's Gallery" Opens in Lytton
The doors opened to a beautiful new creative outlet for artists on Saturday March 9,2002, in the new Municipal/Library building in Lytton, B.C. Georgia Lesley and Alice Munro, friends and business partners in the gallery, had a common vision which they brought to a reality, and created a venue to display and sell top quality artwork, crafts and gifts from artists of all backgrounds. Georgia has been a professional artist for over 20 years, Alice has a natural love for art, and both have been involved in the selling and promotion of art for many years.
"We feel that the time is right, in spite of and because of the continuing changes in economics in our province, to help open up the magnificent Fraser canyon where we live, and provide more reasons that will encourage people to make Lytton and area a place they will want to come and visit. No matter what goes on in people's worlds, art is always appreciated, people need to take time for themselves and enjoy things that make them feel good. The more we have to offer them as a community, the more reason for them to make this area a focal point of their travels."
"I was given a quote sometime ago" says Georgia: `Our talents are not gifts until they are shared' "and that really stuck with me, because there are many, many talented artists and artisans in this area and in our province with a great deal to share."
The gallery has a diverse selection of paintings, carvings, jewellery, wall hangings, masks, and many one of a kind pieces of art and gift ideas. A different artist will be featured each month, as well as the exhibits that are on going.
What the All People's Gallery is offering is more than visual, they are also arranging and providing evenings of music as well as diverse entertainment each month, in the Chamber Room which is adjacent to the gallery. They have connected and become a part of a very large circle of high calibre performers. A sampling of things to come was given to the community on the eve of opening day, when a performance was given by Leslie Alexander, singer, songwriter and recording artist from Vancouver. The next concert is scheduled for Saturday April 13th, with singer, songwriter and recording artist Tom Coles. Tickets are $10
which includes refreshments and snacks at
intermission, and are available at the gallery,
and sold at the door.
Georgia and Alice are focused on the promotion
of the arts by and for all people, as a way of
understanding, enjoying and respecting the
creative spirit in us all, and they welcome
everyone.
The "All People's Gallery" is open Mon. to Wed
9-5, Thurs and Fri. 9-6 and Saturday 9-5. The
gallery will be open 7 days a week and hours will
be extended after May long weekend.
The 'All People's Gallery' 115 4th Street, Lytton