Conservation Concern for Fraser River Sockeye
Rationale for Fishery Closure
As identified pre-season, Fisheries and Oceans Canada is extremely concerned about the Late run component of the Fraser River sockeye stock. This year, the Late run stock has again entered the river earlier than normal. This unusual behaviour of Late run Fraser River sockeye first became apparent in 1996 and has continued each year since then. As in previous years, it is anticipated that 90 per cent of the returning stock will experience en-route and pre-spawn mortality. There is no new evidence to suggest that the pattern of the past five years has changed in 2002.
Currently, the return of Late run Fraser River sockeye in 2002 is projected to reach 5.8 million sockeye. The fishery management difficulty is that 90 per cent of these fish are likely to die before spawning, even if no additional fisheries were to take place on these fish. If this is the case, resulting spawning escapement would be far below the Department's escapement goal, which at the current run size under normal conditions would be approximately 2.0 million spawners. In order to ensure that a sustainable spawning population is maintained, Fisheries and Oceans Canada remains committed to meeting conservation goals for this stock.
First Nations fisheries for food, social and ceremonial purposes will continue, and will remain within the conservation objectives (maximum 15 per cent exploitation rate ceiling). Fishing opportunities for Fraser River sockeye have already been provided to First Nations, commercial and recreational harvesters. Flexibility in the provision of additional fishing opportunities has also already been provided to harvesters. These additional opportunities were provided on the basis of an in-season agreement between Canadian domestic harvest interests, the Pacific Salmon Commission and the United States, and were specifically designed to avoid fishing the Late run which has the greatest probability for spawning success.
Given the conservation concerns for the Late run stocks, and despite the current estimated abundance, further commercial and recreational fishing opportunities are not warranted and would place the future of these stocks at unusually high risk. Additional fishing opportunities may be possible, if there is an increase in the estimated abundance. However, several factors would have to be considered, such as the timing characteristics of the Late run, stock proportions, the presence of vulnerable stocks, such as those from Cultus Lake, and spawning escapement goals. As well, the Department will have to take into account the impact on the conservation of Late runs sockeye fished illegally. Opportunities to harvest other salmon species are either on-going or are anticipated in the coming months for all harvesters.-
Fisheries and Oceans Canada
Message from the Grand Chief of Pythian Sisters
of British Columbia-LORRAINE FERGUSON
In May I had the great honour of becoming the Grand Chief of the Pythian Sisters. It is a big responsibility and I only hope that I can do as great a job as the previous Grand Chiefs.
I will be travelling all over B.C. spreading love, friendship and goodwill to everyone I meet. My project is to raise money for Cerebral Palsy. Anyone in town who wishes to donate can drop it off at Canyon Lanes or mail it to me at SS#1 Boston Bar, B.C. VOKICO.
Cerebral Palsy is a way of life that can be helped
if we raise enough money. It can't be cured yet. But
maybe down the road. Science is doing wonders
these days, and I say "never say never".
Being a Pythian Sister to me means everything.
Knowing that I have helped some people like our
own little Andrea Conkin, makes me feel warm
and happy. Especially when I see her running and
playing with the other children.
Last year the Knights and the Sisters raised
over $67,000.00 for Cerebral Palsy and other
charities. I would like to see that amount go
higher and higher.
If anyone has any questions about our order,
please drop in at Canyon Lanes or phone me at
604-867-9324 and I would be pleased to answer
what I can. Thank You.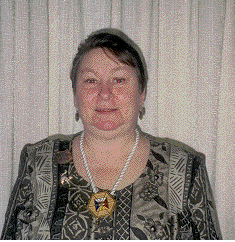 Play at Hope Cinema a Tribute to Missing Yale Girl
-By Sharon Blythe
One bright sunny day in May of 1981 a 15 year old girl was hitchhiking between Yale and Hope when she disappeared. Some items she had with her were found on the #7 highway, but her body was never found. Her name was Verna Bjerky. It is thought by many that she was a victim of Clifford Robert Olsen. It was proven later that he had been in the Hope area. He had cashed a cheque from one of his victims at a bank in town and had received medical attention for a scratch on his leg from a local doctor. If I remember correctly he even confessed to her murder, but later recanted his story.
Verna had attended grades one to six at the Yale Elementary School. So did all four of my children. so we saw quite a lot of the
happy, friendly, bouncy
little blonde girl. I have a photograph of her coming in at the finish line, the youngest person, at about 4 or 5, to have walked in a 14 mile fundraiser walkathon from Hope to Yale. There she was still smiling, and skipping, and bouncing after all that time. She was a charmer and took that charm and friendliness with her as she became a teenager. She then attended school in Hope, as did my children. I knew her mother and stepfather well, also her brother and sister and half-sisters. I had been a Brownie leader while living in Yale. Both Verna and her older sister had been in my Brownie pack. Verna's family, and any friends that are interested still search the highways and byways every May in hopes of finding on little clue as to her her whereabouts.
Gwynne hunt of Lake Errock is a poet and author. she is also a friend of Irene Bjerky, who writes and has had some of her work published in local newspapers. Gwynne has written a play called "Missing". It is a tribute to Irene's sister Verna. It is partly about Verna's disappearance, but she uses Verna's story to tell the story of other missing women and of society's apathetic response to women who have gone missing. Irene and her family attended a performance of this play at the Mission Arts Center, and were so moved by it they asked for it to be brought to Hope. Gwynne has agreed and it will be presented at the Hope Cinema on Thursday September 19th/02.
The Hope Artist's Guild will sponsor a promotion evening at the Hope Art Gallery. (located at 349 Fort St.) Saturday September 14th/ 02 at 7:30 pm, called " A Night of Poetry and Words" Three or four poets and a singer named Julie, all of whom are in the play, put on a 45 minute show which includes readings of their own works, including some slam poetry, as well as other known works. the event at The Gallery is by donation. the play will cost $10.00. Tickets will be available the night of Sept. 14th. They can also be purchased at the Hope Cinema or The Gallery.
"Computing With Confidence"
-Ask a Computer Pro ---Online Adventures---Webmaster tips and more!
_______________________________________________________________________________________
Have you ever been surfing the web and seen a picture or an animation that you like? There is a way to save the image and use it in your documents or e-mail messages. Some websites, particularly ones whose images are copyrighted will be "right-click disabled". What that means is that the images can't be saved to your computer. To save all other images just put your cursor on the image and then "right click" the mouse. Slide your arrow down and click on "save picture as". A box will open and here you choose the folder where the image will be saved, I suggest "my documents" or "my pictures". You can also give the file a new more recognizable name.
Now whenever you write a letter in word processor or e-mail you can click "insert" then click "picture from file", and include your new image in your message. A great place to find some images is at www.DebsFunPages.com. Many of the fun pages include images of angels, flowers, cowboys, animals etc., all of which can be right clicked and saved. Try this with your own favourite websites to save photos of celebrities, cars, cartoon characters whatever! You could even search for suitable images to print out and use for greeting cards, wall stencils, flyers and posters.
Online Adventure: www.sugar3.com- Enjoy a fabulous selection of greeting cards
"Computing With Confidence"
Sponsored by Free Rein Associates
RCMP Report
August 29th- Around 9:30 pm on HWY #1. Police received a report of a hit and run just North of Yale. A northbound pick-up sideswiped a southbound pick-up. A short time later a vehicle crossed the road in front of oncoming traffic and entered the ditch at Alexandra Bridge. An intoxicated male was found at the scene. A 19 yr old Chilliwack man was charged with hit and run and impaired driving charges are pending.
August 12th-
In the afternoon two break ins occurred within minutes of each other in Boston Bar. A Sony Playstation 2, with games and controllers, a Panasonic 5 DVD player with a Panasonic subwoofer and 2 remote controls were reported stolen. Persons with information concerning these events are asked to contact Constable Holmes of the Boston Bar Detachment 604-867-9333 or Crimestoppers.